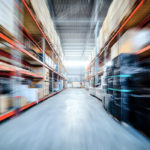 ITS provides all aspects of Warehousing and Logistics support to include integrated supply, procurement, inventory and logistical solutions. We compete and acquire materials on one time or a recurring basis as well as make recommendations for stockage based on use, failure rates and obsolescence.
We perform Property Management Control, conforming to all government audit requirements across our contracts. We are expert users of both the Air Force's Integrated Maintenance Data System (IMDS) and fully implemented the IT Asset Management Software (iTAMS) for the 432nd AF Wing.
ITS currently operates the IT supply warehouse at Creech AFB. We control near 10,000 government furnished equipment items and over 400 line items of consumable goods valued in excess of $17M. We have consolidated make-shift warehouses into a central point, bringing item control into standard accepted practices. Over 6 years we have maintained 100% accountability of the assets under our control in support of five squadrons and three remote locations (two OCONUS).
As part of both the general logistics and warehouse capabilities, we also have experience in establishing and executed Hazardous Material Programs. We have established new programs to include entering all work process into the Environmental Management Information System to comply with EPA, DOD and USAF policies.
Cradle to grave logistics support
Materiel support strategy development
Property Management and accountability control
Expert users of Integrated Maintenance Data System (IMDS)
Implementation of IT Asset Management Software (iTAMS)
Create and operate IT warehousing at central and remote locations
Hazardous Materials program development, processing and handing